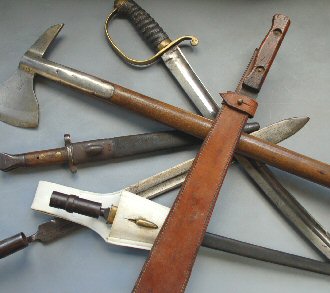 This section is divided into the four areas shown by the "Sales Table" submenu items on the left, each of which offer a number of items for sale.
A selection of photos appears with each item (Click on images to enlarge). I hope you will find them sufficiently illustrative. However if you would like larger format high-resolution photos and additional information, I'll be happy to supply them.
Purchase Instructions and Terms
Currency: All items are priced in US Dollars.
POR: Price on Request. Where this appears against an item, please use the 'Request more info' link to ask.
ON HOLD:Where this appears against an item, it indicates there is a transaction in progress waiting to be completed.
Global currency conversion: XE-Currency Converter
Order: To reserve any item for purchase, simply send me an e-mail with the item number(s).
Shipping: Postage is extra, and will be charged at cost. Items will be reserved and put ON HOLD for you while I pack it and make the trip to the post office to establish the mailing cost. All items will be despatched by Priority Mail, with insurance and tracking where available. Shipping is entirely at your risk, and the cost will be added into the total.
Payment: In US $, by bank draft, international money order or PayPal (PayPal - please use the Friends & Family option only, or the PayPal service fee of 4% will be added to total cost).
Satisfaction : Total satisfaction guaranteed. If you are not happy with an item, no matter what the reason, return it within three days and if received in the same condition as sent the price will be cheerfully refunded. However, please note – you pay the postage both ways.