Deciding on where to focus ones collecting pleasure is an entirely personal decision dictated by budget, physical storage room, availability or a hundred other different reasons. My personal preference has been to concentrate on officially issued British & Commonwealth bayonets. But inevitable the temptation is to stray from the straight and narrow. The downside is of course to suddenly find oneself branched out into an entirely different field of collecting. These two bayonets kind of fit into that category, but I rationalized by telling myself they had been officially issued – at least initially.
Both can be generally classified as World War 1 memorablia. Both are standard P1907 bayonets, of which approximately 5 million were produced.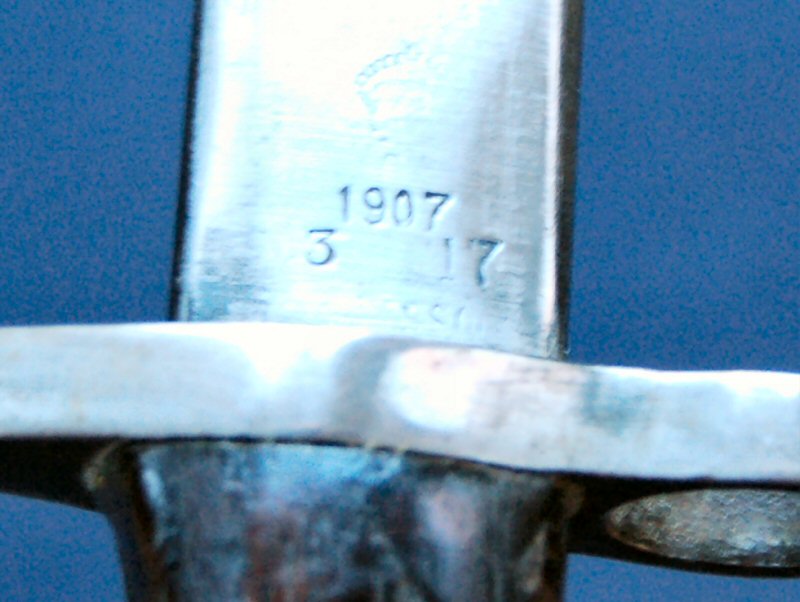 Many have survived, and some personally modified to commemorate the great 1914-18 conflict.
The top example with the wooden grips is dated March 1917. Retained as a souvenir, or perhaps one of a small batch similarly treated, the blade is etched in a panel with the inscription:
"The Minden Boys" ~ The Lancashire Fusiliers ~ 20th Regiment of foot
"1914 - France - 1918"
The Lancashire Fusiliers (1881) have a proud heritage. Formally the 20th Regiment of foot (raised in 1688 by William III), they won honours for their part in defeating the French at the Battle of Minden in North Germany during the 7 Years War. The victory continues to be celebrated by the Regiment annually on the 1st August, Minden Day.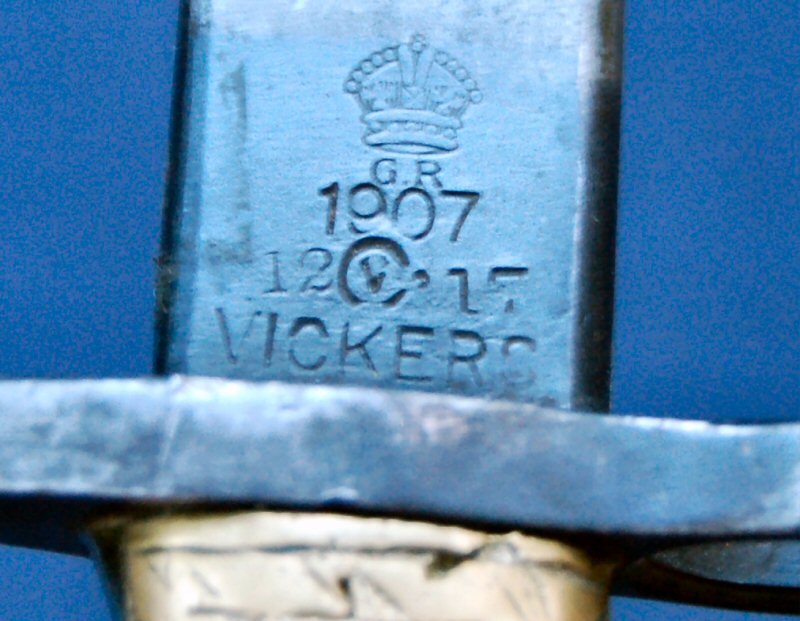 The second bayonet is a little less easy to attribute. It is interesting in so far as the maker Vickers was one of the least productive manufacturers, delivering approximately only 10,000 units before their contract was cancelled. This example is dated December 1917.
The grips and locking mechanism have been removed. The lug slot, press-stud cavity and oil hole have all been filled with a brass colour alloy.
New grips have been prepared from the same material, cast with a cloverleaf design embedded into them. It is tempting to suppose this could be 'trench-art', but the degree of sophistication required to achieve the effect would make it likely an adaptation carried out away from the front line, in a more peaceful environment.