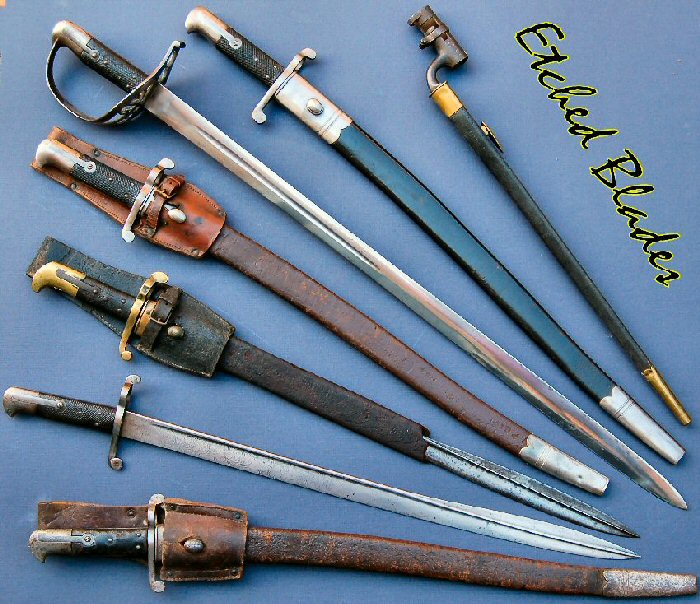 Whilst British sword blades are sometimes found with decorative etching, bayonets appear by and large to have avoided such treatment.
Exceptions did occur during the mid-19th century, when the Victorian Volunteer movement was at its height. Volunteer units were modeled after regular Regiments. Largely equipped at their own expense, there was no compelling reason to follow WD regulations. Uniforms were often quite fanciful, and the quality of weaponry sometimes a notch above service issue.
Although privately purchased bayonets did not necessarily have to adhere to strict ordnance patterns, in reality those available from the trade were usually surplus to WD requirements, thus similar to those officially issued. Bayonets lacking ordnance inspector markings can generally be lumped into the commercial category, whether for export or private purchase by units of the Volunteer Corps.
If the quantity warranted, it would seem reasonable to assume that bayonets were available by direct purchase from makers. If a limited supply or individual weapons were sought, then retails maintained a ready supply. Two such retailers were located in London.
Reilly
315 & 502 Oxford St.,
London
and
Parker Field & Sons
233 Holborn,
London
Most etched blades I've encountered bear only the retailer name, which I've come to realize is simply a subtle form of early advertising. Retailer details are usually acid etched into one side of the top of the blade, sometimes with quite elaborate foliate design. The maker's name is not always evident, but if present, it is usually die-stamped into the forte of the blade.
Parker Field & Sons was probably one of the more successful ventures. They also supplied newly established police forces throughout the country with weaponry. Standard patterns of constabulary
swords
, decorated wooden
truncheons
and brass
tipstaffs
bear the Parker Field name and address.
Reilly appear to have had two locations on Oxford Street. Bayonets decorated with their name sometimes identify both numbers 315 and 502, and sometimes 502 alone.
- - O O O - -
A yatagan blade sword bayonet for the Enfield Short Rifle or Artillery Carbine, with hilt fitting for 'bar-on-barrel' bayonet lug. Sheathed in a steel mounted brown leather scabbard, the end of the pommel is stamped with a unit marking – EMR over 11396.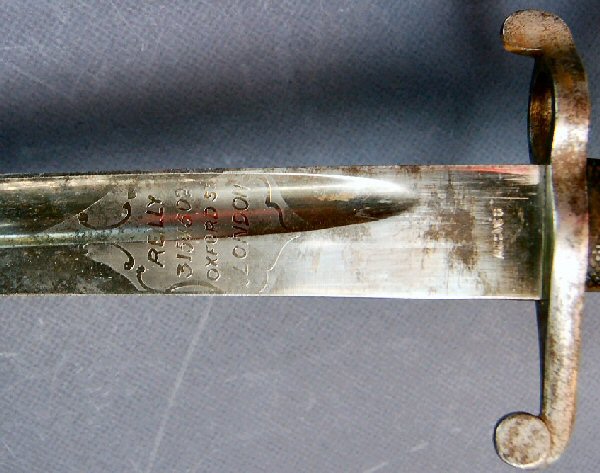 The blade bears both Reilly addresses, and the maker's name REEVES is struck into the forte.
- - O O O - -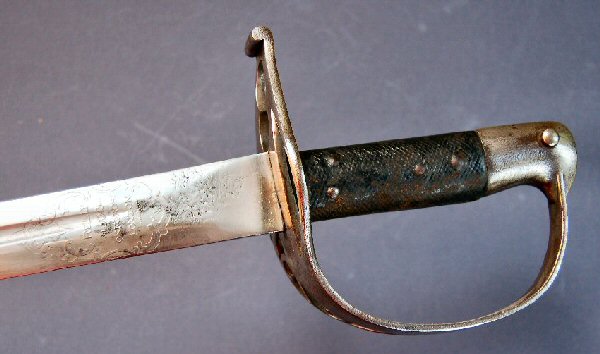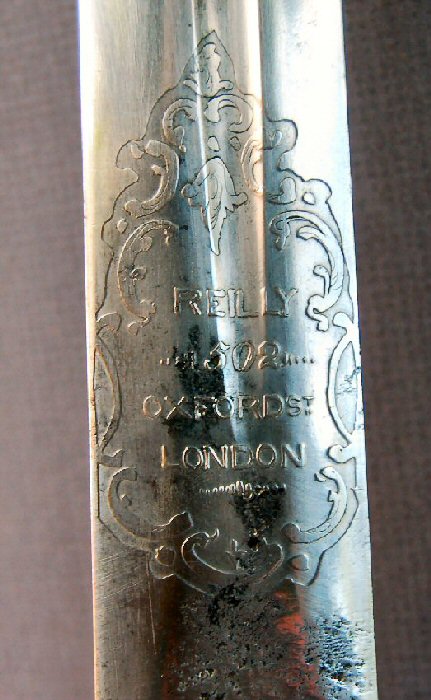 This is another Reilly retailed piece, however it shows only the one address on Oxford Street.
This is an example of a volunteer pattern bayonet for the Jacob double barrel carbine. Note the single fuller in the blade. The basket hilt is similar to the regulation pattern Jacob bayonet made by Swinburn, although slightly smaller and lighter in appearance. There is no maker's name evident on this bayonet.
- - O O O - -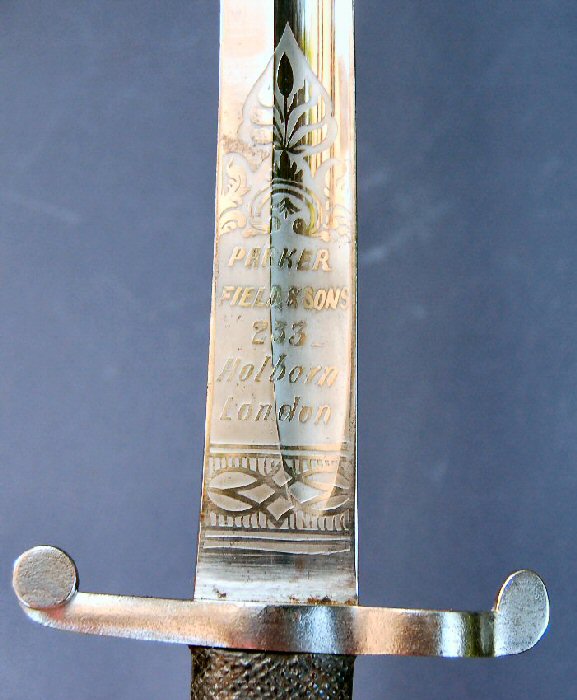 Parker Field & Sons tended to be a little more elaborate in their etching style, as evidenced in this example of a yatagan blade sword bayonet.
The fitting slot is configured for a lug and short bar, and the bayonet is accompanies by a steel mounted brown leather scabbard. No maker's name evident on the blade.
- - O O O - -
Not all etched bayonets have a sword blade. This is a P1853 style Enfield rifle socket bayonet retailed by Parker Field and Sons, presumably part of a set. Note the number '3' etched into the lower panel. There is no maker's name, or other markings.
- - O O O - -
This example is a sword bayonet for the Lancaster rifle. The blade bears a German maker's mark. This leads me to believe that blade etching was arranged by the retailer, not the bayonet maker.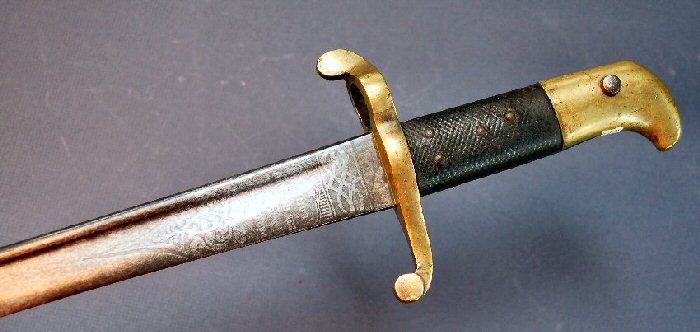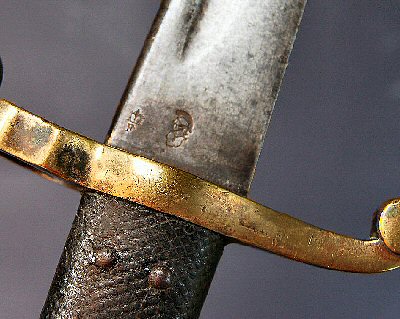 The curious feature is the 'crowned F' inspectors stamp.
- - O O O - -