Featured Bayonet - Old Blades - new life. A survey of shortened British service bayonets.
Much of the evolution and design of bayonets and their use had to do with 'reach', the quest to ensure that the combined total length of firearm with fixed bayonet was at least equal to that of a potential opponent.
Whilst this was a practical element when a means of immediate defense might be needed between recharging muzzle loading firearms, the advent of cartridge breach loading firearms gradually negated this need.
Traditional perceptions were hard to shake off, but one can see the evolving trend for a shorter, handier designed bayonet start to emerge in the late 1800s.
The adoption of cartridge arms in the British armed forces from the 1860s onwards precipitated an equally interesting evolution of bayonet design. Martini arms alone had over a dozen bayonets specifically designed for them. The development of small bore arms from the Long Lee Enfield onwards brought relative stability to shorter bayonet design, but also resulted in huge stockpiles of obsolete long blades.
Many such bayonets were shipped off to British Colonial forces, sold to friendly foreign powers, or simply dumped on the commercial market.
But good steel is good steel, thus no small number of obsolete Victorian bayonets were modified for continued service.
A brief survey follows. If you have other examples and would care to share them, I'd be delighted to hear from you and add yours to this page.
- - O O O - -
Yataghan blades
The yataghan blade sword bayonet first adopted for the P1853 Enfield Artillery carbine had a long and venerable life.
In regular service for over 50 years, many of these bayonets saw their final use in the hands of cadet forces.
Many had blades shortened to 300mm (approx. 12 inches) and blunted, with muzzle rings bushed to 18mm for use with the Martini Henry rifle.
The following example, complete with correctly shortened scabbard, was originally a P1856 (bar-on-barrel fitting) Enfield Short Rifle bayonet. It bears Birmingham Repair inspection stamps, and a reissue date of 1894. The pommel is milled to fit the lug on the MH barrel band.
This more uncommon example is a similar conversion, but for a bayonet originally issued with the P1858 Short rifle, which has a bayonet bar on the barrel band. The conversion did not include milling the pommel to fit the Martini Henry, as the muzzle ring is set away from the back of the hilt.
This example also has a reissue date of 1898, is a German made blade, bearing both Solingen and Enfield inspectors stamps.
Not all shortened yataghan bayonets are as easy to classify. This example, although modified in a similar manner, has the upper quillion removed, and the blade pointed in a very business like manner. Clearly intended for combat use, not drill-purpose. A German made blade, it is impressed with Solingen as well as Enfield inspection stamps. No clear reissue date, but around the turn of the century, and probably used by Colonial troops.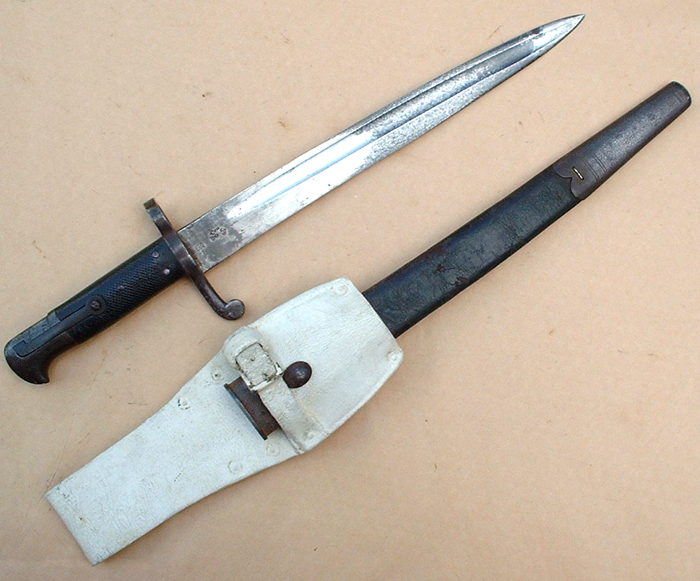 A further example, originally a very early manufactured P1856 Artillery carbine bayonet, bar-on-barrel fitting, with the leaf spring secured by a rivet.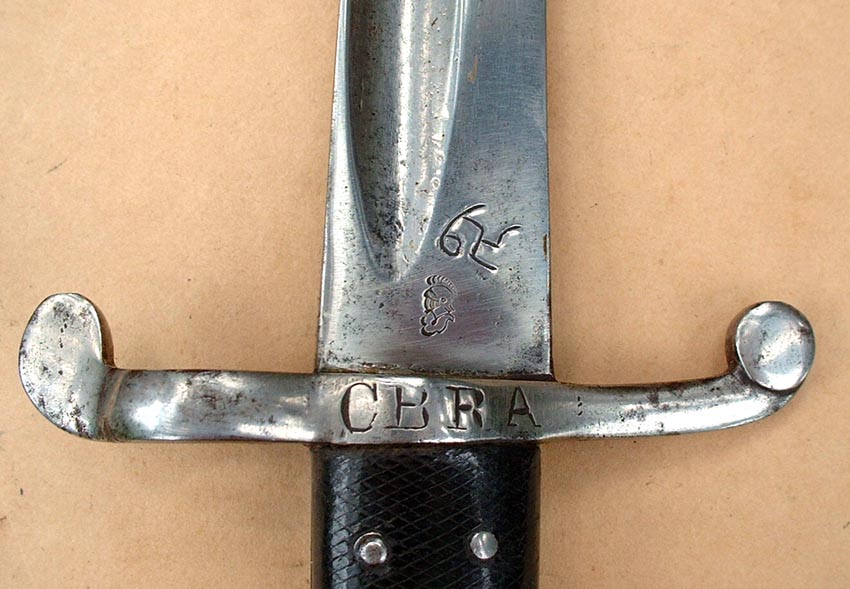 Although the blade has been shortened and blunted, the muzzle ring and hilt remain unaltered. Regimental stamping on the crossguard shows the original unit to whom it was issued. The blade is impressed with the German maker's logo, alongside native Colonial markings.
Originally a P1860 for the Enfield Short rifle with bar-on-barrel lug, this example raises a number of questions. The blade is shortened to a nominal 17" (P1907 length), re-pointed with a false edge, and muzzle ring bushed for a .303 caliber firearm.
It's tempting to guess this may be a private purchase scrounged by the Volunteer Training Corps, but the blade markings argue against that.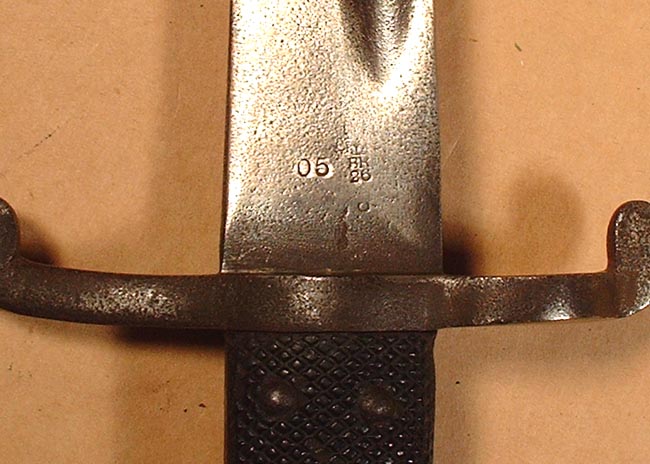 The left ricasso is impressed with a Birmingham Repair inspector's stamp, and a reissue date of 1905. The crisp condition of the grips certainly gives the impression of being replaced during refurbishment.
The right ricasso bears the stamp of a Roman numeral II, the mark of arms relegated to reserve use.
In the absence of any record, one can only speculate on the final use of this bayonet.
- - O O O - -
Straight sword blades
Shortened and modified Australian Alexander Henry sawback bayonets, fully covered in previous Feature : Australian Alexander Henry bayonets - modified.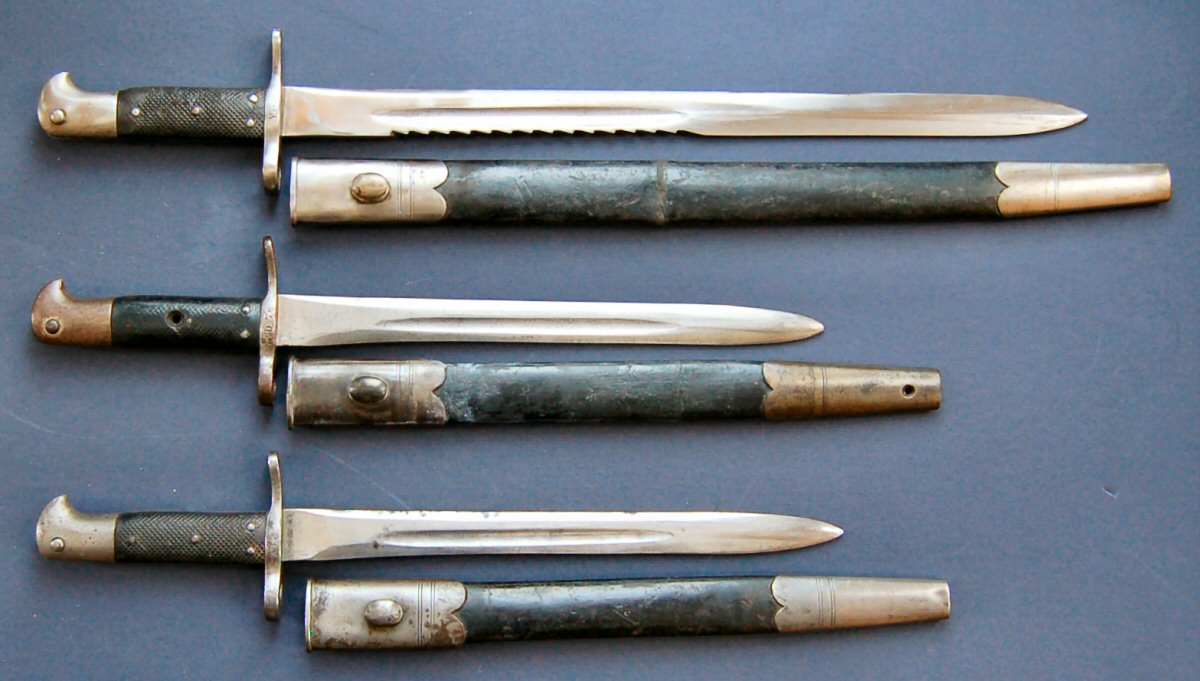 A further example of continued use of a long obsolete bayonet is seen in this example. A shortened and refurbished Lancaster sword bayonet (330), the blade has been reduced to 13.7 inches and the tip blunted. The scabbard has been shortened accordingly and the ornamental chape ridge removed.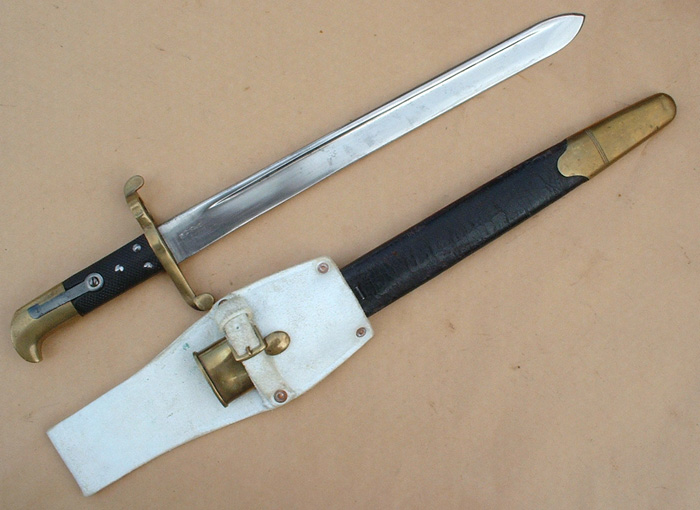 The blade still bears the Solingen inspectors mark, but in addition a Birmingham repair inspectors stamp and a reissue date of 1903.
Although no further alterations, this example was clearly intended as an ornamental sidearm.
One shortened blade that is cause for speculation is this P1887 Mk.IV for the Martini Henry rifle.
It could be argued that it is simply a broken blade that has been reshaped. There are no markings on the bayonet to indicate that it has undergone any kind of official refurbishment. The shortened blade is 15.5 inched, not a recognizably standard length, however the age patina on the blade indicates this was not a recent alteration.
Another piece that attracts speculation is this shortened P1903 SMLE bayonet. The EFD stamp in the end of the pommel is evidence that it was one of the
many P1888 bayonets converted to P1903 configuration by the replacement of the pommel, and new screw bolt fixed grips.
The bayonet has been modified at a later date by grinding, shortening and re-pointing the blade to the general configuration of an 8inch No.5 Jungle Carbine bayonet. A P1907 scabbard accompanies this piece, shortened to match the blade.
For comparison purposes the following image shows this bayonet (third down) with a 12 inch blade India No.I Mk.III (top), An India Pattern No. 6, and a No.5 Jungle Carbine bayonet (bottom).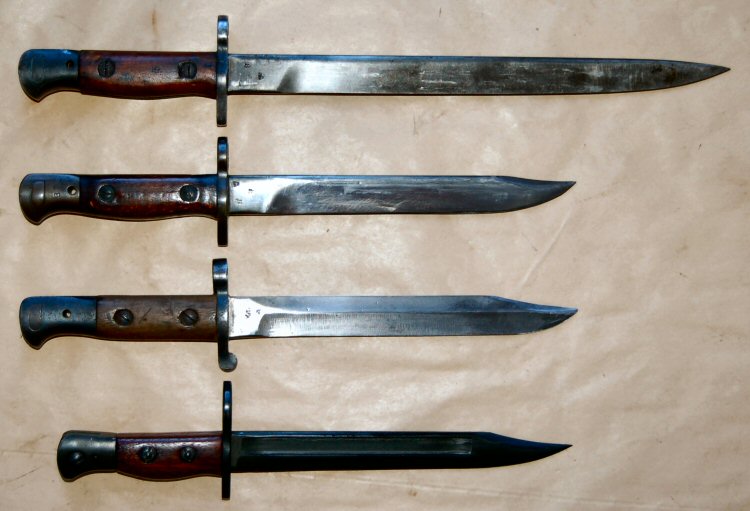 P1887 Mk.III sword bayonets for the Martini Henry rifle were officially reduced to a 12 inch blade by the Indian Government, and reissued with black leather, brass mounted scabbards appropriately shortened.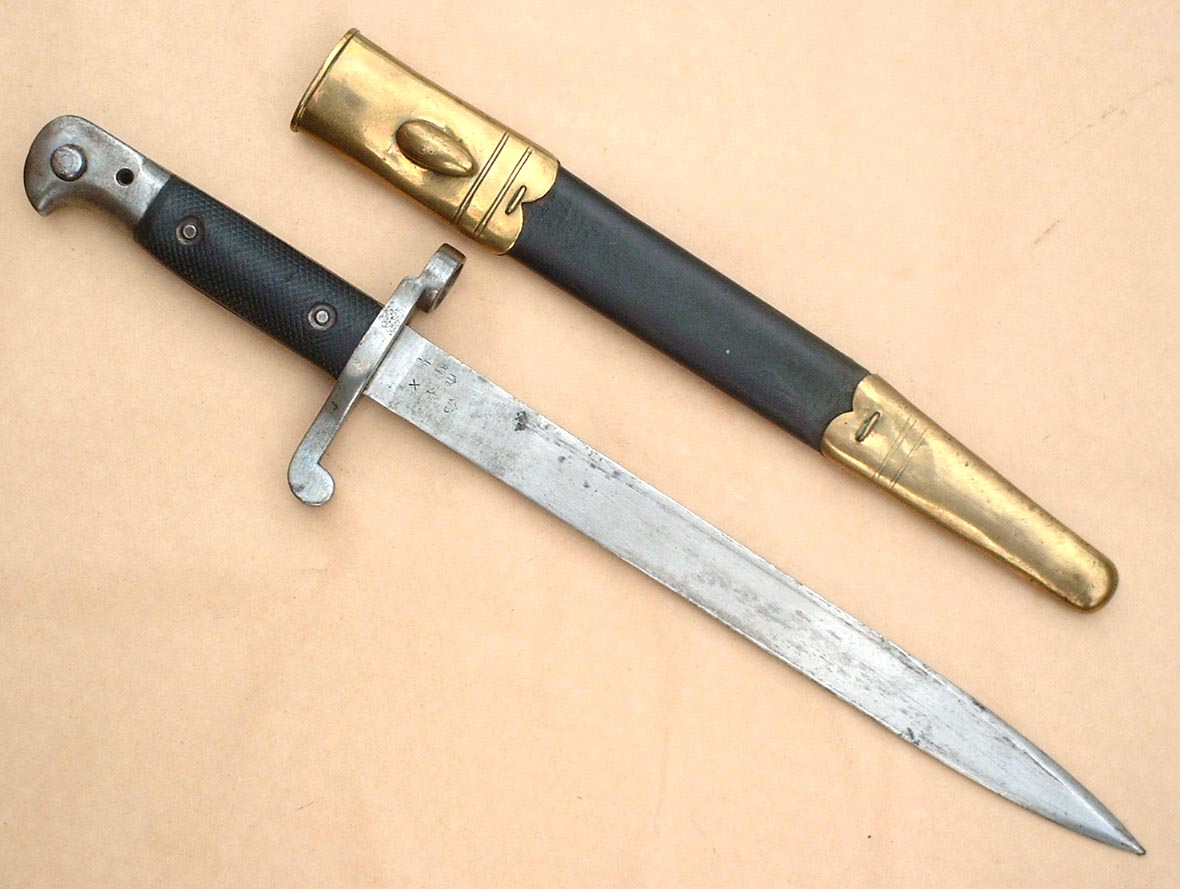 This example bears India Government inspector and ownership stamps on the blade, and a reissue date of December 1914.
Of the millions of SMLE P1907 bayonets produced during both World Wars in the UK, India and Australia, it is only the Australians who formally considered the bayonet sufficiently worthy to continue using with a modified blade.
The first modification was for use with the Owen sub-machine gun. In 1944, existing stocks of P1907 bayonets produced at Orange Arsenal were modified by reducing the blade length to 8 inches and repointing it. Examples are usually dated 10 '44 and easily recognisable as the fuller runs through the tip. It was given a new designation, Owen Bayonet Mk I/I
Committed to the jungle campaigns of 1944/5, Australia sought to develop their own version of the Jungle Carbine, a handier weapon better suited to the warefare conditions encountered. A shortened version of the SMLE complete with flash-hider was trialed in 1944, and designated the No.6.
A P1907 bayonet was modified by fixing a new crossguard with an enlarged muzzle ring to fit the flash-hider. Two versions were produced. One with a standard full length blade of 17 inches.
A second version with a blade shortened to 8 inches and repointed to a bowie tip was trialed. The fuller runs through the tip. The rifles and bayonets were only produced in very limited numbers, and never went into full production.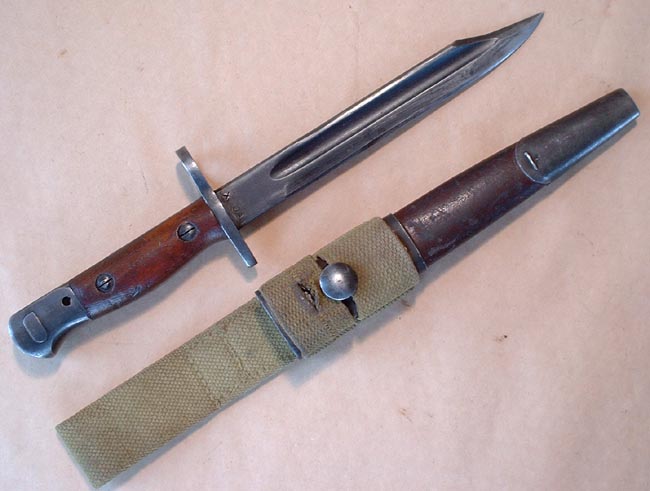 - - O O O - -